Music For All Occasions!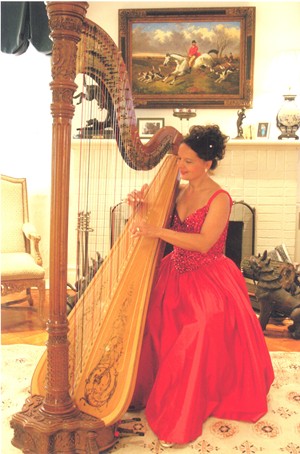 The Finest Solo and Ensemble Music For Concerts

Complete Entertainment Services!
The Finest Music For Your Party, Wedding With Combinations of Different Instruments
International Repertoire In Classical, Semi Classical and Broadway Musicals, Love Songs and Favorites!
Sylvia Kowalczuk is an Internationally Acclaimed harpist who will perform elegant and diverse music for concerts or any occasions where music can be enjoyed!  She will bring her rare talent either alone or in concert with instruments of your choosing specifically personalized to your event!
Thank You for taking the time to visit her site and to learn a few things about Sylvia and her rare one of a kind talent!  Here you will enjoy some of her reviews:
"An extraordinary performance"  —Beijing Wanbao (Peking, China)
"a harpist of rare talent. Sylvia was sensational… The Plaza has a prize in this artist"  –Gary Stevens, US syndicated columnist
"A fine New York debut… What made Ms. Kowalczuk's approach to the instrument so invigorating was her firmness of musical articulation.  Rhythms were propulsive and intense, attacks clean and direct, phrases precisely shaped.  This is hardly to say that she denied her instruments essence; there were plenty of the delicate timbral variety and rippling beauty that defines the harp.  But this was playing on a real virtuoso level." –The New York Times
"The most professional part of the evening, in fact, was Sylvia Kowalczuk's harp performance."  –New York Times, Sunday
"An artist of great sensitivity and talent."  —Il Messagero (Rome, Italy)
"An ideal performance…rare and precious at the same time…." —Hannoversche Allgemeine Zeitung (Germany)
"The way she plucks the strings is artistry in action. Rhapsody in Blue and I've Got You Under My Skin are reasons for Gershwin and Porter, wherever they are, to be applauding."  –New York Magazine, Gary Stevens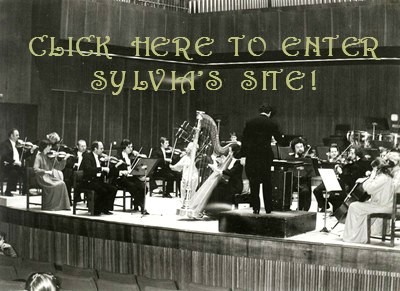 sylvia kowalczuk harpist ny wedding violins nyc corporate event entertainment new york wedding music violin teachers wedding music string quartet, rock strings, small orchestra, new york classical music, beautiful music, suzuki violin teacher, black tie affair, new york entertainment, black tie event, ny entertainment, bride and groom wedding, music, church music for wedding, westchester entertainment, church wedding music, classic concert, music new york city, entertainment in new york,classical concert, music entertainment for party, string ensemble, new york music concert, entertainment in new jersey, classical concert review, entertainment ny, classical music concert, solo violin weddings nyc, musicteacher, classical music concert review, entertainment new jersey, classical music for weddings, musician in new york, piano new york, classical music performance, quartet music, nyc musician, piano classical music, new york city entertainment, wedding reception pianist, romantic music, nyc entertainment, classical music performer, nj entertainment,wedding music new york,classical pianist,live music new york city,classical violinist, new york live music, classical wedding music, string trios, musiclesson, music entertainer, elegant affair, entertainment musician, elegant entertaining, live wedding music, learning to play the violin, elegant occasions, octet string, elegant wedding, ensemble music, entertainment classical music, entertainment nj, harp wedding music, entertainment company in new york, learn violin, entertainment in new york city, classical music performance, entertainment in ny, entertainment in nyc,a formal affair, ny musician, entertainment music, entertainment new york, solo guitar, musician corporate event, entertainment new york city, soloists, string quartet music, wedding ceremony music, quintets, entertainment nyc, wedding reception music, event entertainment, find musician, great entertaining, harp music for wedding, violin instruction, harp musician, ny symphony, romantic classical music, harp player, home entertaining, wedding string quartet, suzuki harp lessons, home entertainment, instrumental wedding music, piano wedding music, learn to play the harp, flutist, live music in new york city, flutemusic, octect, music ensemble, music entertainment for a party, noted harpist, music for wedding ceremony, music instructor, music performance, private music teacher, music service provider, music teacher, music wedding, musical duets, musical entertainment, musicinstructor, lovemusic, new jersey entertainment, music concerts, new york studio musician, music entertainment company, nj wedding music, oboe player, music and entertainment, pianist, piano player, private music lessons, processional wedding music, flute new york, quality entertainment, solo and ensemble, soprano sound, special event entertainment, string quartets, strolling strings, suzuki method harp, teach violin wedding music nyc, wedding ceremony musician Long Island Harp, long island harp entertainment,long island wedding ceremony music, Long Island Harpist, Long Island Harp Music, Long Island Wedding Harp, Long Island Wedding Ceremony Harp, long island cocktail hour harp, cocktail hour harp music long island, Long Island Harp Flute, Long Island Harp Flute Cello, Long Island Harp Violin, Long Island Harp Cello, New York Harp, New York Harpist, New York Harp Flute, new york wedding ceremony music, New York Harp Flute Cello, new york harp entertainment,New York Harp Violin, New York Harp Cello, LI Harp, LI HARPIST,LI HARP MUSIC,LI HARP VIOLIN,LI HARP FLUTE,LI HARP FLUTE CELLO,LI HARP CELLO,LI HARP MUSIC,LI HARP WEDDING CEREMONY, NY Harp, NY HARPIST,NY HARP violin, NY HARP Flute